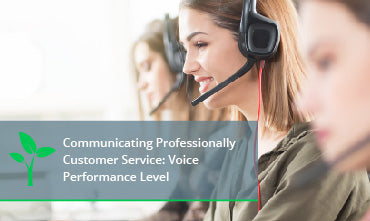 Communicating Professionally: Customer Service Voice
$75.00
Includes Assessment.
This course is designed for learners who need foundational instruction in Customer Service skills in a voice environment.
Objectives:
Gain understanding of the principles of good customer service.
Practice the critical skills of good customer service by recording your voice.
Outline
This course uses explanations, examples, and exercises to illustrate and train on effective customer service.
Topics covered are:
How  much do you know about Customer Service?
Active Listening - Acknowledging and Paraphrasing, Empathizing, Reassuring 
Professional Tone of Voice and Positive Language
Mirroring and Verbal Collision
Call Control and Small Talk
Level
The course is designed for learners with a range of English competency from intermediate (B1) to fluent (C2). It is especially useful for learners at B2 level who need more practice to improve their communication skills. The course includes a Pre-Test and a Post-Test. The following guidelines can be used for aligning test results to the CEFR (Common European Framework of Reference):
>90% C2
70% to 89% C1
50% to 69% B2
20% to 49% B1
<20% A2 or below
Strategies
The modules are designed to be taken in order as the progression follows a typical call flow. These pages can be turned on or off as required to emphasize priority skills. 
This course can be used as an entirely self-access course. Or, instructors can use the LearningBranch tracking and commenting tool to give feedback to learners on their work.
Duration
This course will take approximately 2 to 4 hours to complete.
Trainer Support
Trainers can check learners' progress for completion and scores.
Trainers can use the optional  instructor-scored assignments to evaluate and give feedback. These optional lessons can be turned off if desired.
Copyright 2018 LearningBranch Inc.
All rights reserved
www.learningbranch.com